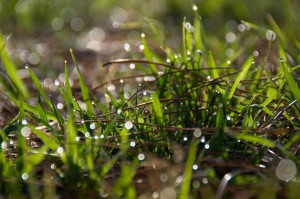 Summer is all about backyard entertaining. Having a pristine landscape helps guests feel welcome, children enjoy themselves, and you feel secure and confident. VIRIDIS Lawn Care of Draper Utah knows how important a lawn's appearance can be. Below we'll tell you how to get your area entertainment ready.
Pruning
This is one of the first things you can do to prepare for your party because the effects are more long lasting. For many, hiring a professional pruning service is easier and safer. For others, know your tree or shrub type and use caution.  Trimming could be done a week or so early.  For trimming flowers or removing dead flower heads, wait until a day or two before your party so you are sure to get all the old debris rather than having to do it twice.
Mowing
While longer grass can withstand more traffic, no one wants to entertain with a raggy, overgrown lawn. However, mowing too near the event can harm your lawn once it is exposed to so much use. Try to mow around five days prior and don't mow too short. Keep your mow height around 3 inches, regardless of summertime entertaining to shade roots and maintain health. Mowing in advance will allow a bit of regrowth while still looing groomed.
Water
While watering is very important in the weeks leading up to the date of your party to keep grass healthy and lush, watering should not be done for a couple days prior to guests arriving.  The ground needs time to dry or tables and chairs could sink into the ground, shoes could become muddy and children could get messy.  Depending on your soil type and grass variety and thickness, plan to not water for at least two days before your event.
Walkways
Spray or sweep walkways to remove grass clippings or other debris on the day of your event. Doing so sooner will be a waste of effort.  This will not only improve appearances but safety as well.
Following these guidelines will help your landscape withstand the rigors of summertime entertaining and you feel prepared for your events to arrive. Don't forget, parties are to be enjoyed, so get out there and have some fun!